segohair.com
Regular price
$147.00 USD
Sale price
$91.90 USD
Unit price
per
Sale
Sold out
SEGO hair toppers intend to conceal balding or thinning spots by blending in with your natural style and color.Hair toppers is not a wig.If you are almost bald, have severe hair loss or want thick coverage, then this hair topper is not suitable for you,wigs are more suitable for you.

100% Real Human Hair Hand Made Toppers Hair Pieces :Can be washed,straightened, curled, bleached or dyed like your own hair.Top hairpieces is no shedding and tangle.

Silk Base looks like real human scalp and which totally fits your hair skin, breathable, Comfortable, Softness, Invisible and Realistic.

150% Density Hair Toupee With 3 Anti-Slip Clips: Just take a few seconds to apply, providing secure yet comfortable attachment for all day wear.Cut or curl the bangs to any style your like to fit your face.

ATTENSION: Color might be slightly different from the picture showed considering light and different monitor.But since it's real human hair,the clip topper can be dyed to the exact color you want if needed. NOT SUITABLE for someone who is nearly bald top or need a thick cover.
SEGO has always been committed to the research and production of hair toppers, and has mastered professional and advanced production technology. The hair toppers sold have been liked by many buyers, and imitated by various sellers since then. Although they look very similar to us, the craftsmanship and product quality used are different from ours.
SEGO has been collecting customer feedback on our hair topper. We often face that some customers will like our products very much, and some customers will not like our products. But it is also because of these good and bad reviews that encourage us to retain the advantages of the products, get rid of the shortcomings of the products, and continuously improve our quality.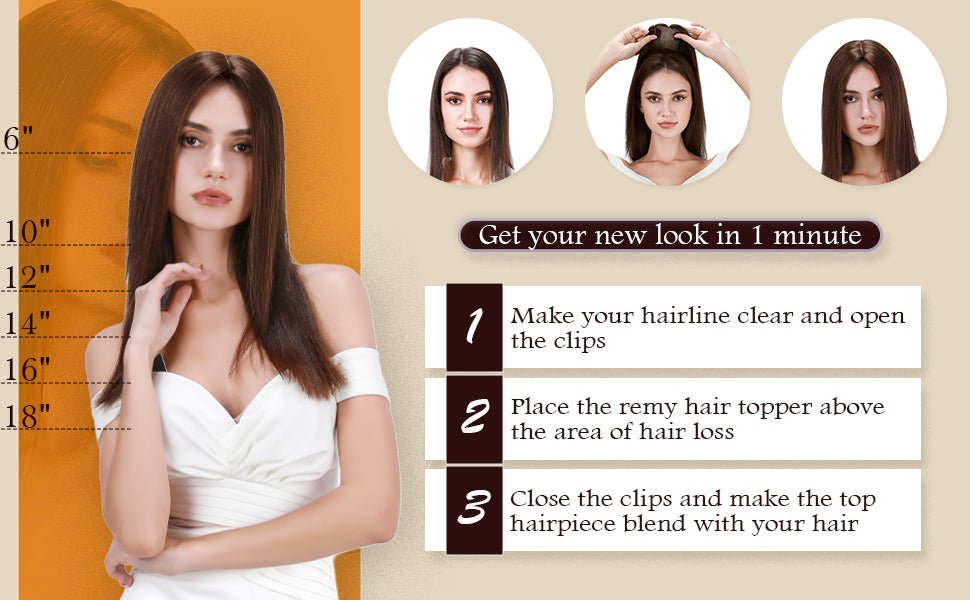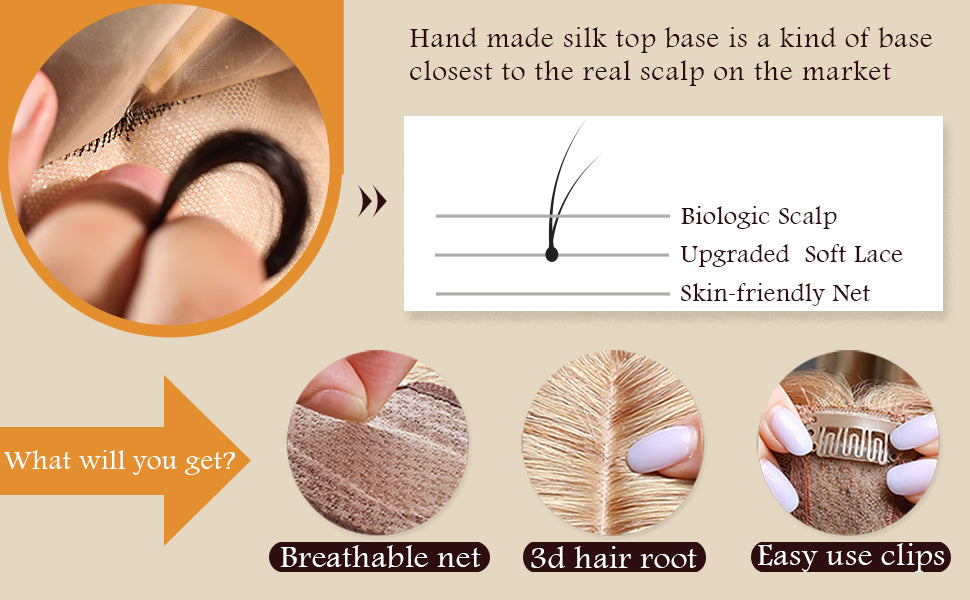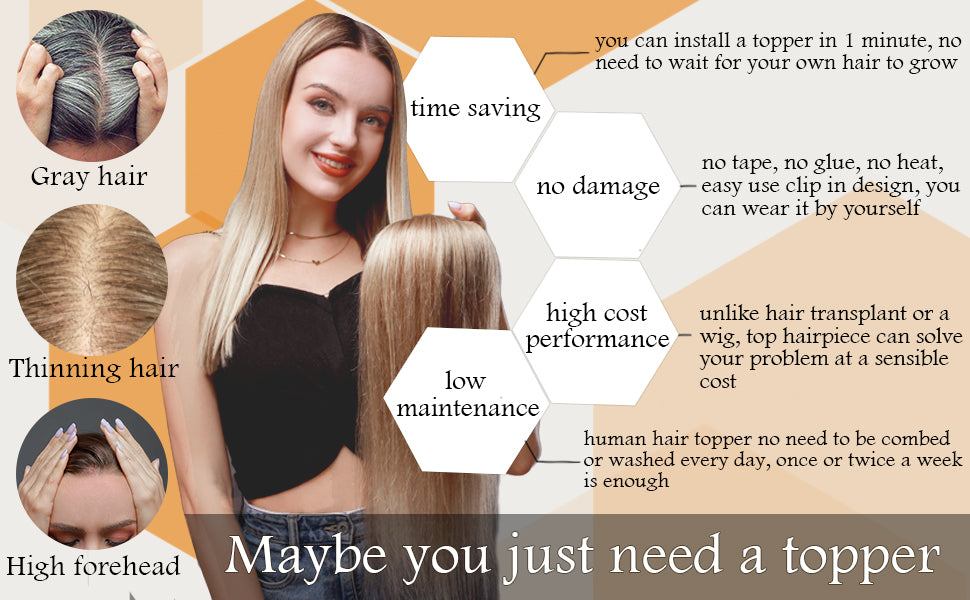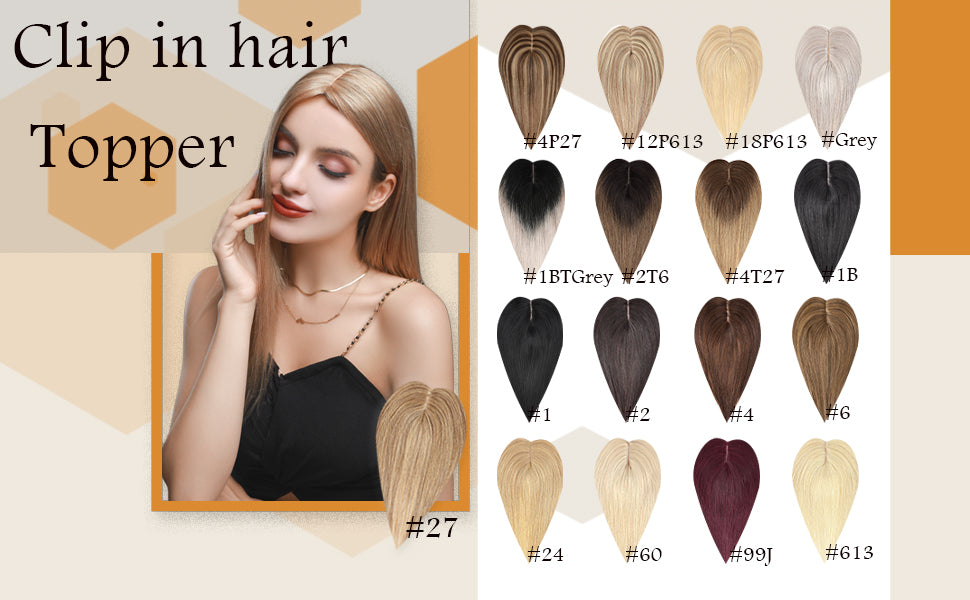 Notice Before Order:
About Color: All pictures are taken by ourselves, but considering light and different monitor, the exact color might be slightly different from the picture showed.

About Style: Our remy human hair topper just like your own hair and can be styled, cutted, curled or straightened asdesired.

About Odour:Product may remain a bit chemical smelling after processing.If it does,soak it with fragrant conditioner for a while and the odour will disappear.

About Product Problem: If you have any problems with the product, please give us a chance to help you, we will try our best to work it out.
Q&A
A:Why is the hair topper I received thin and small?
Q:Because the hair topper is not a wig, people who have really understood the hair topper know that the hair topper is only an area that covers the hair loss, not the whole head.
Q: Why is the color of the actual product I received inconsistent with the photo?
A: Light and different monitors, the color of the actual product may be slightly different from the picture shown.
Q:What should I do if the hair topper looks unnatural?
A: The hair topper cannot be 100% integrated with the hair, only close to the fusion.First, You can wear it according to our wearing guide.
Second, If it's still not natural enough, SEGO suggest you find a professional hairdresser, she will blend the hair topper with your hair to a large extent.
Besides, you can wear some small hair accessories in your hair to make it look more natural and perfect.
How to Wear ?
Step 1: Clearly identify anterior-posterior direction. Detangle the hair with a wig comb.Open all clips on the underside of the topper.
Step 2: Place the front edge of the topper approximately 1-2 inches from the front of your hairline, positioning it over the area of hair loss, and secure the front clip.
Step 3: Place light pressure over the top of the hairpiece and run your fingers over the length of the base to secure the back clip.
Step 4: Style and blend hair as desired.
Caring Tips :
Use Dedicated Cleaning Materials.

Protect your hair topper from extreme heat or sunlight.

When your topper is not in use, it should be stored in a clean satin or silk bag.

Don't be too rough with it, and don't tug or pull at the fibers.

Avoid swimming with your topper in, as toppers shouldn't be soaked with water, except for cleaning.

Conditioning your hair topper regularly to reduce the occurrence of knots and keep the topper feeling soft.
Dye Tips:
Only the light color hair can be dyed to darker color.

We highly recommend having your hairdresser dye the extensions,coloring them yoursely always poses a high risk of not coming out the shade you want.

If you can not get to a salon,use a good quality hair dye and test a small sample dirst please.

Many consumers dye their favourite color successfully but #613 produced by bleaching so it is easy to break when dying again.You can try to dye one pcs hair(#613) to make sure that is not spoiled.
Tips to Make a Hair Topper Look Natural:

Choose a Suitable Color--According to a color chart to purchase the color that appears to be closest to your natural color.
Trim It-- Trimmed to match your hair length and style will help it blend into your natural hair the best.
Blend It-- Take a few pieces of your natural hair out from under the lace or netting. Comb the hair up and over the front of your hair topper, blending the natural hair with the front of the topper hair.
Remove the Shine-- Wash the hair topper before use, remember that it may take a couple of washes to completely remove the shine
Shipping

1.Stock in US local warehouse,arrive in 2-5 business days.

2.Stock in CN warehouses,arrive in 7-15 business days.
Return Policy

We accept return on products. Customers  has the right to apply for return within 7 days after the receipt(Once beyond 7 days ,we won't offer free exchange or free return service,please keep a good contact during this period)
Share
View full details
Perfect piece if your hair part is widening or you are starting to have crown loss
I really love this hair topper, nice shiny soft hair. I pulled some strands and tested it under my flat iron and it did not melt or damage it (was checking to see if fake). I naturally have a soft black hair color but have Redken shades put in so it darkens the color. The natural black color is perfect (I'm guessing the lower reviews are because of color match. Black hair is easier to match so it works for me). My natural hair part is widening and I have the dreaded hair split on the back of my head which was getting longer too. Also have small crown thinning. This topper is perfect for that. I tried a way more expensive brand but the hair was too thick and didn't sit right. This topper is really affordable and sits right on my existing part. Doesn't look fake at all. This topper is good for slight to medium early stages of thinning.
Notes, as the pictures show I did thin the part out to look more realistic. I plucked some hairs from the rows underneath or to the left/right of the first row of hairs. Do not over pluck the first row/part. I accidentally did this and then had to repart the topper (wet it, made new part, clipped it back and let it dry, then put some heat on it with blow dryer) . Even so it looks amazing. I am now purchasing the 14" one as well.
If you have trouble blending the front watch YouTube videos on blending toppers. Very helpful.
Pretty pleased & surprised at how it looks & feels.
I like how soft my hair topper feels & the color matched up so well with my natural hair. My only complaint is it comes with 4 clips to secure it in place & it needs 1 possibly 2 more sewed in a little more towards the back & back side to help it feel more secure in that area since the other 4 clips are more towards the front & front sides.
Choosing right color
I just picked wrong color . Never took out of box. New right away was way to like. I know my time to return is late but had terrible year with 4 family members pass at one time:-(:: if I can I would like to just exchange for the color 18p613 I believe? That would be awsome! Thank you!
My hair has gotten thin on the top and it's been a nightmare until I got this
I purchased a bleached topper so I could color it the color of my auburn hair and it took beautifully and blends beautifully and covers all that thinning that I'm so disgusted with! Why did I wait so long. Definitely purchase the human hair!
Awesome Topper
First,Do Not hesitate to purchase this topper!! Absolutely beautiful hair topper. This is my second topper that I purchased since I left a professional salon that was taping and glueing wigs to my head and destroyed the top of my hair to the point I have many bald spots. This topper completely covers the damaged area. I also love the color, it blends right in my own natural hair. I will definitely purchase more toppers from this company and from other companies. I, must say, this topper really suprised me though. I took it out the box and placed it on my head to see what difference it would make and I was blown away. I am so glad I have this option and I don't have to pay $ 4500 again for a professional stylist and salon to glue wigs to my head. Trust me, that was so painful going through but these toppers, I just place it where I want it, clip and forget it. It is very lightweight and it does not move when I bend over even though I can't clip the from clip because I have no hair left there to clip it too!! Only problem, I curled the hair and it doesn't hold curls!
More Options, More Yourself
SEGO has the ability to offer any style, size, and color to make sure it matches your needs. It's worth noting that SEGO is the largest online hair topper brand in North America.
100% Customer Satisfaction Guaranteed
We offer 30-day no-reason returns, and orders can be canceled for a refund within 24 hours of purchases
We Do Everything We Can To Minimize Costs
Thanks to the excellent supply chain management and advanced production process, the cost of products is lower and the price is cheaper than most brands
Discover the perfect gift with Sego's hair toppers! Learn how to choose based on your friend's hair needs and style preferences. Embrace the art of gifting with a personal touch...

Discover the perfect gift with Sego's hair toppers! Learn how to choose based on your friend's hair needs and style preferences. Embrace the art of gifting with a personal touch...

Discover the magic of Hair Toppers for your wedding day. Learn how to choose the perfect topper, explore real-life examples, and find tips for trying on and finalizing your ideal...

Discover the magic of Hair Toppers for your wedding day. Learn how to choose the perfect topper, explore real-life examples, and find tips for trying on and finalizing your ideal...