Introduction
Hair thinning is frequent for women worldwide, causing a substantial loss of confidence and self-esteem.
The good news? There is a solution to this troublesome problem: SEGO Hair Toppers. Unlike synthetic counterparts, SEGO Hair Toppers are meticulously crafted from real human hair, promising a realistic, natural look.
Let us guide you to discover fuller, voluminous hair with SEGO hair toppers.
Understanding Hair Toppers
Hair toppers, also known as hair enhancers, are designed to conceal thinning hair or hair loss at various areas of the scalp. This magical accessory enhances volume and adds length to your hair, perfectly blending with your natural strands for a seamless finish.
The beauty of hair toppers lies in their versatility. They are a fantastic solution for women experiencing thinning hair, offering a substantial confidence boost by transforming the appearance of your hair. You won't believe the difference a topper can make until you see it for yourself!
SEGO's Hair Toppers
At SEGO, we have painstakingly curated our line of hair toppers, ensuring each product features unique attributes that set them apart in the market. Designed meticulously, our toppers offer myriad features tailored to your needs.
Comfort and Secure Fit
Comfort is at the forefront of our design philosophy. Our hair toppers are engineered to ensure a comfortable fit, minimizing scalp tension even with prolonged use. Additionally, we prioritize security. Our toppers are fitted with high-quality clips that promise a sturdy grip, giving you the confidence to move freely throughout the day without worrying about slippage or displacement.
Authenticity and Fullness
Each SEGO hair topper is crafted from real human hair, a conscious choice that underscores our dedication to authenticity. This real hair material ensures that our toppers blend seamlessly with your natural hair, offering a voluminous, fuller look free from the synthetic sheen that characterizes many alternatives.
Stepping into the spotlight with SEGO means walking with confidence. Our hair toppers are intended to improve not just your hair but also your whole appearance and, as a result, your self-esteem. We invite you to explore SEGO's exquisite collection of hair toppers.
Discover our range's quality, comfort, and transformative potential. Let your hair take center stage in your journey to rediscover your beauty.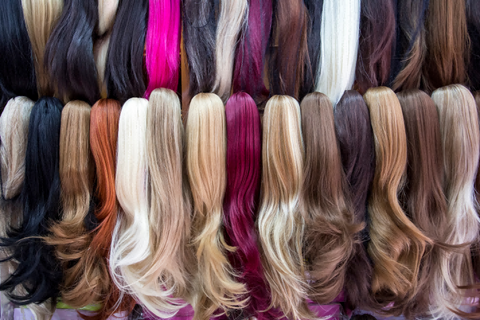 Highlight: SEGO Hair Toppers with Bangs [2.8x5.1 inch | 3 Clips]
Perfect Fit and Adjustable Sizing
It seamlessly integrates with your natural hair, ensuring maximum comfort and minimal hassle during use. Its customizable sizing is a game changer, providing a bespoke fit for every user, regardless of head shape or size.
Superb Blend with Natural Hair
Another phenomenal feature of this product is its ability to blend superbly with your existing hair. It is designed to match your hair color and texture, providing an imperceptible transition between the topper and your natural hair. The result? A fuller, more voluminous mane that looks and feels 100% natural.
Boost in Confidence and Outlook
Customer testimonials reveal that the SEGO Hair Toppers with Bangs [2.8x5.1 inch | 3 Clips] significantly increase self-confidence and positively impact their outlook on life. Women across the globe who've embraced this product attest to the transformative power it has had on their appearance and self-esteem.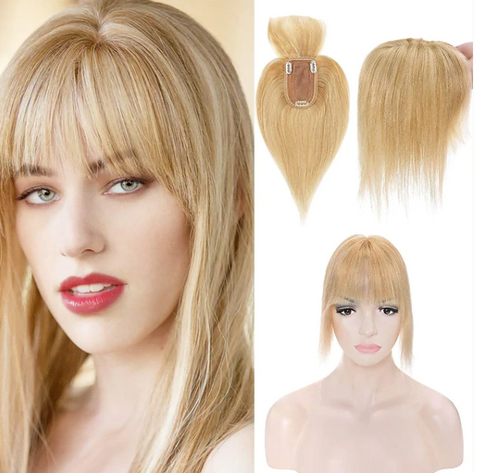 Check out to get your SEGO Hair Toppers with Bangs [2.8x5.1 inch | 3 Clips]
Visual Proof of Transformation
Our customers' stunning transformations are the best testament to the efficacy of our hair toppers. Peruse our collection of before-and-after shots to visualize the dramatic change that SEGO Hair Toppers with Bangs [2.8x5.1 inch | 3 Clips] can bring to your life.
Their results are a testament to the quality of the product but also to the renewed confidence and positive self-image they enjoy.
Click the link to get more about our costumer's feedback: https://www.youtube.com/watch?v=r6sOzvEwGvA&t=12s
Highlight: SEGO Hair Toppers with Bangs [5.1x5.9 Inch | 4 Clips | 150% Density]
Greater Size and Higher Density for Unrivalled Volume
The SEGO Hair Toppers with Bangs [5.1x5.9 Inch | 4 Clips | 150% Density] significantly upgrade size and density compared to other variants. The larger dimensions ensure wider coverage, making it an ideal choice for those experiencing substantial thinning or hair loss. At 150%, the higher density provides an unrivaled volumizing effect, creating the illusion of a lusciously thick mane.
Indistinguishable from Natural Hair
A standout feature of this product is its natural appearance. The extra density combined with the use of real human hair gives a result that is indistinguishable from your natural hair. Whether under indoor lights or out in the sun, no one but you will know the secret to your boosted volume and fuller look.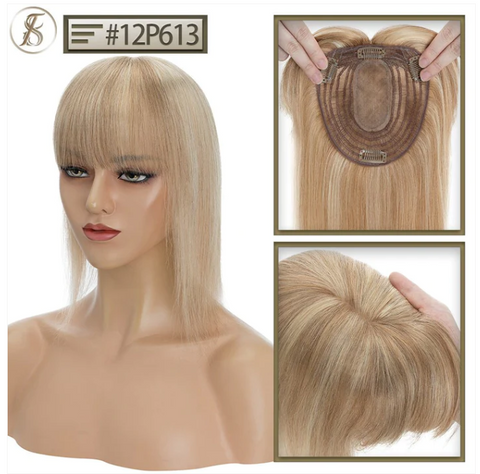 User Testimonials and Increased Confidence
The SEGO Hair Toppers with Bangs [5.1x5.9 Inch | 4 Clips | 150% Density] have received glowing user testimonials. They report a dramatic increase in hair volume and a significant boost in confidence, with many stating that they feel more beautiful and self-assured. The transformation stories are inspiring and compelling, making this product a must-try for anyone struggling with thinning hair.
Discover more and get your SEGO Hair Toppers with Bangs [5.1x5.9 Inch | 4 Clips | 150% Density
SEGO's Quality and Satisfaction Promise
Dedication to Real Human Hair
We believe in authenticity at SEGO, so we use only real human hair in our hair toppers. This choice guarantees our customers an authentic look and feel, enhancing the natural allure and seamless blending of our products with your hair. Our dedicated craftspeople work diligently to preserve the hair's natural texture and shine, bringing you a hair topper that radiates life and vitality.
Unwavering Commitment to Quality
Quality is not just a catchphrase at SEGO—it's our philosophy. Every hair topper is meticulously crafted, undergoing rigorous quality checks to ensure it meets our exacting standards. We remain unyielding in our dedication to providing exceptional quality, aiming to exceed customer expectations at every step of their hair transformation journey.
Positive Customer Reviews as Testimony
We take great delight in assisting our customers in reclaiming their thick hair. The influx of positive feedback from pleased clients demonstrates our ongoing dedication to quality and customer satisfaction. These evaluations inspire us always to grow and strive for perfection in all we do.
SEGO's quality and satisfaction promise embodies our dedication to bringing you the best. Trust in our commitment and let us help you embark on a transformative journey toward reclaiming your crowning glory.
Click this link to check what our costumers says about sego hair toppers: https://www.youtube.com/watch?v=r6sOzvEwGvA&t=12s
Conclusion
Embarking on a journey with SEGO Hair Toppers is transformative, providing a comprehensive solution to thinning hair and boosting self-esteem. From gaining insight into the powerful benefits of hair toppers to exploring the unique features and superior quality of SEGO's extensive collection, you're taking a confident step towards a future graced with voluminous, lustrous hair.
SEGO's commitment to using real human hair promises a natural look and feel that is second to none. This journey is not just about reclaiming your hair but also about enhancing your overall confidence and poise.
As you contemplate this leap of faith, remember that SEGO Hair Toppers are more than just an accessory; they are a pathway to rediscover your beauty.
Make your choice today, opt for SEGO Hair Toppers, and prepare to revel in the freedom and confidence of reclaiming your crowning glory.