To get those bangs or not to get those bangs? This is a question that most women have asked themselves at some point in their lives. Why not just do a test run with some short natural hair toppers?
If you need help with how do hair toppers work, then keep reading. Because choosing the one that's perfect for you will make the difference between failure and flawless.
So let's figure out how to use short hair toppers with bangs to work for you.
Bangs: To Have Or Not To Have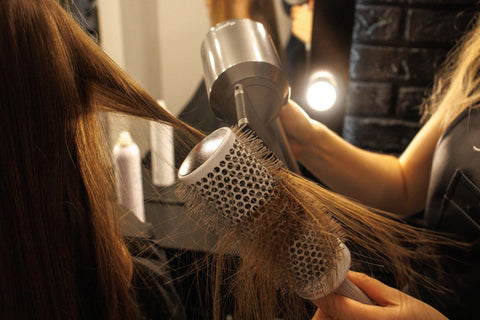 The best hair toppers for thinning hair can also be used as a fashion accessory. You can experiment with different cuts, colors, and designs. And see what works best for you.
Short hair toppers with bangs can be used for various purposes, whether experimenting with a new look or overcoming a medical condition. They just add that extra oomph to your hair.
Here's why you should consider adding bangs to your look:
Bangs are a fun way to switch up your hairstyle. They let you try something new without making a drastic change.
Short natural hair toppers can draw attention to your eyes and cheekbones. So that adds a bit of interest to your whole look.
If you're self-conscious about having a high forehead, then bangs go a long way in helping you cover it up. It also creates a more proportionate look.
If you have any acne or any other kind of blemishes on your forehead, bangs can provide some coverage.
But there are some things you need to keep in mind. Not all bangs are created equal. And this depends mostly on the shape of your face. While the best hair toppers for thinning hair do great for your overall look, toppers with bangs need more consideration.
Straight bangs are a no-no if you have a round face. Avoid short bangs if you have a square face. And if you have a long face, stay away from baby bangs.
Before you learn how hair toppers work, talk to your stylist about what shape suits your face. And then you can go shopping for hair toppers with bangs.
Now what's the next thing you must consider before investing in a hair topper with bangs?
Should You Go For Human Hair Toppers with Bangs or Without Bangs?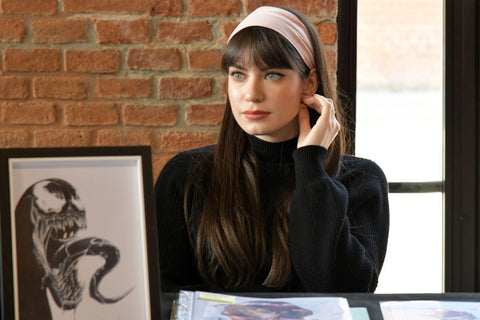 For starters, there are two kinds of hair toppers. First, are those made out of natural human hair? And then there are those made out of synthetic fibers. Human hair looks more natural and are easier to style, just like you would your own hair.
But now the question is, should you get a regular hair topper or one with bangs?
The best hair toppers for thinning hair work to create more volume at the front of your head and basically cover up any bald spots. One with bangs will do the same. But with the added flair of different kinds of bangs you can choose from.
Then there's also the maintenance aspect. Like the natural ones, hair toppers with bangs need more maintenance than the regular ones. They're particularly prone to get tangled. So you have to keep an eye out for that.
Hair toppers with bangs can also be more versatile. That's because they are relatively simple, and you can style them any way you want. You could straighten them or pull them back into a ponytail. But with bangs, all the styling is already done for you.
The kind of hair topper that you choose actually boils down to your preference. And what look you're going for today? Have a formal meeting? Go for a regular hair topper. Are you heading for a girls' night? Try some fun bangs to add some drama to your look.
Here's How To Choose The Right Bangs For Your Hair Topper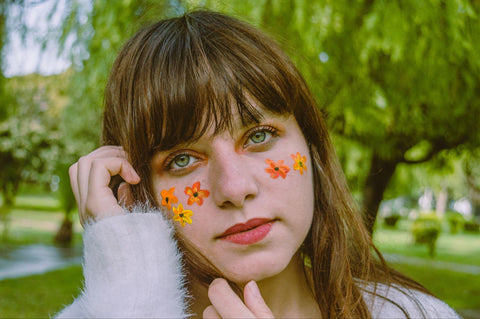 The key to choosing the right bangs for yourself depends mainly on the shape of your face. Followed by your hair type and personal style.
If you have a round face, go for thick, side-swept bangs.
Those of us with a square face should opt for long, heavy bangs that hit your mid-brow.
If you have a high forehead or a long face, then choose longer bangs that get longer at the sides.
Heart-shaped faces should go for layered side bangs.
If you have an oval face, you're lucky because every kind of bang will work for you!
We have a whole range of hair toppers with bangs in different lengths, textures, and colors. It's best to try a few before deciding which one to get because it will show you exactly which works best for your style.
Maintenance Is Key!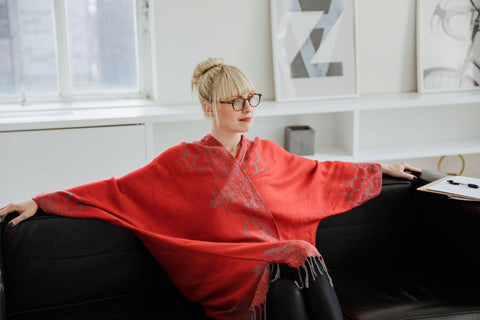 Once you decide which one to get, you need to make it last. Here's how you can look after your brand-new hair topper with bangs.
Brush your hair topper gently. Use a wide-tooth comb or a brush designed for hair toppers to detangle gently.
Wash it regularly. Depending on how often you wear your hair topper, you may need to wash it every 4-6 wears.
Style your bangs carefully. If your hair topper has bangs, be careful when styling them. Use a low heat setting on your hair dryer and avoid pulling or tugging on the hair. You can also use a styling cream or gel to help keep your bangs in place.
Store your hair topper properly. When you're not wearing your hair topper, store it on a wig stand or in a box to help protect the hair and keep it in good condition.
Now For Some Frequently Asked Questions.
How do I put on a hair topper with bangs?
Just like you would any other hair topper, use the tape or glue method for a more natural look. And style them as you would your natural hair.
How do I make a hair topper look natural?
Choose a human hair topper. You can find more details here. 
How do I style my hair topper?
Just like you would your natural hair. But a little bit gentler with the bangs.
Can I swim with my hair topper?
Absolutely! But remember that sea water and chlorinated water will have the same effect on your hair topper as your natural hair. So make sure you wash and condition it after.
We hope this helped you in making your decision about getting bangs. Hair toppers with bangs are a great way to experiment with the look, at least before you decide to get them for real.
Or why not play around with different styles and looks? Check out the great collection we have on segohair.com. They're affordable and of excellent quality too.