Whether you're a fan of our top-rated hair toppers or still thinking about whether you should get one, this post is for you. segohair.com has a range of the best crown hair toppers money can buy. But before you get one, make sure you know how to pick one that's best for you.
It's important that you pick one that helps you achieve the look you're going for. You should keep a few things in mind before buying one. Keep reading to find out what you should look for when buying one for yourself or a loved one.
Why Choose Crown Hair Toppers?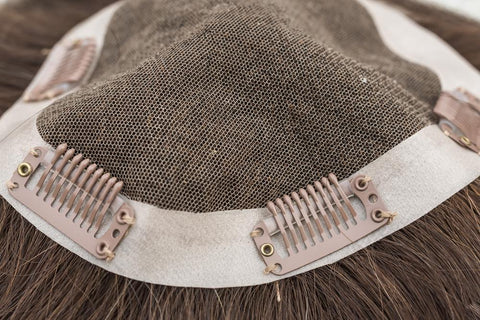 These babies can really transform your whole look! You can use them for a range of hair issues or snazzy styling.
Hair Toppers for Thinning Hair:They can add volume to flat or thin hair, giving your hairstyle bigger and better volume. In fact, they can also be used as extensions. And they're so much easier to use than extensions. For starters, they're less invasive. They can be attached to your natural hair without damaging them.
Conceal Hair Loss: Our natural-looking hair toppersare a great way to hide hair loss. They come in a range of colors and textures to match yours exactly. Many of us will suffer from hair loss at some point in our lives. And these could be due to various reasons like genetics, aging, medical conditions, and even hormonal changes.
Experiment with Different Hair Looks: Why not have fun with brand-new hairstyles? The diversity of affordable hair toppers makes playing around with different looks easy. And without having to make a permanent commitment, which can be daunting! Our top-rated hair toppers are a great way to try out a new look without cutting or dying your hair.
They Offer A Great Alternative to Wigs: You may not need to invest in a wig depending on your situation. They're definitely more affordable than wigs. Also, easier to use and way more comfortable. The mostnatural-looking hair toppers are also virtually undetectable.
But really, you could use hair toppers for any number of reasons! What's crucial is picking the best crown hair toppers for you. They make for a great fashion accessory or to help you deal with any medical condition-related side effects.
How To Choose a Crown Hair Topper That's Perfect For You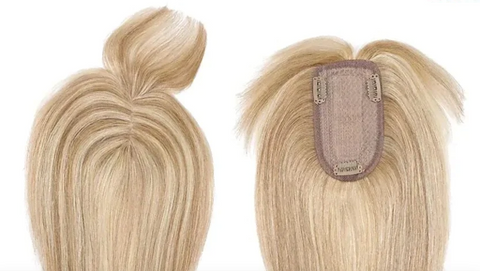 So now you've decided you want to get one for yourself. Whether you're getting hair toppers for thinning hair or to try a new look, there are some technical details to remember.
Human or Synthetic Hair: These are the two basic types. Human hair can be styled just like you would style your own hair. They're also more natural looking. But the synthetic ones are the moreaffordable hair toppers. You could start with a synthetic one until you're ready to make a bigger investment.
Consider the Size: Quickly measure the area you want to cover. That's what the base size of your topper should be. You have to make sure that it covers the area sufficiently.
Match the Color Correctly: Pick a hair color that matches your hair color as closely as possible. These crown hair toppers come in a whole range of colors. So you should be able to find a match for yourself fairly easily.
Figure Out the Level of Coverage You Need: From full coverage to partial coverage, they come in various styles, partial or full coverage. If you're just looking to add volume, then partial cover works. Otherwise, you'll need full coverage if you have significant hair loss.
Consider the Attachment Method: Toppers can be attached using clips, tape, or glue. Clips are the easiest to use but less secure than tape or glue. But you need to figure out which method works best for you.
Read Reviews: An honest review is a great way to determine if a product works. So do your research and see how users liked or disliked the topper you're interested in buying.
SEGOhair's SEGO Silk fits all the criteria discussed above. You can learn more about the details here.
Before and After: How Crown Hair Toppers Can Transform Your Look
To say that the transformation is magical would be an understatement!
Just look at how effectively these toppers cover up a thinning crown. And how perfectly matched is the hair color?
The styling possibilities are endless too. The best part is it looks so natural! It's virtually impossible to tell that you've added a hair accessory.
It's best to experiment until you find the one that's just right for you.
FAQ
And if you still have more questions, keep reading below.
How do I choose the right hair topper for my hair type and color?
This will depend on your particular situation, including the size and level of coverage needed.
Can I wear a hair topper if I have thinning hair?
Yes, of course! One of the main reasons why people wear them is to cover up thinning hair. Toppers provide a non-invasive yet natural-looking solution to the problem.
How do I attach and style my hair topper for a natural look?
Use the tape or glue method for a more natural look and style as you would style your own hair.
Can I wear a hair topper if I have short hair?
Yes! Hair thinning affects those of us with short hair too. Toppers can also be used to add length to your short haircut.
Can I swim with a hair topper on?
You can safely swim in the pool or the sea with your hair topper on. The water will affect your topper as it affects your natural hair.
Hair toppers are an excellent option for those experiencing hair loss or thinning. They come in various styles, colors, attachment methods, and prices.
Now you can figure out what works best for you. You can choose the right one by following the tips outlined in this article. That one matches your hair color and provides the right level of coverage. And most importantly, fits comfortably on your scalp.
So browse on SEGO brand site to figure out which crown hair topper is for you.