Are you desperate for some coverage? There is no denying that thinning and hair loss can take a big toll on your mental health. Thankfully, hair toppers can be an easy way out. They make your hair look voluminous and can help restore confidence without breaking the bank. Read on to explore the best hair toppers for short hair and expert styling tips to achieve picture-perfect hair looks each time.
Top Picks
When choosing amongst short hair toppers, here are our top picks:
Top 10 Best Hair Toppers 2023 for Short Hair
Create different hair looks with the all-natural Remy human hair by Jon Renau. Users can look and feel confident with this 2.75" X 5" base hair topper that clips in quickly for all-day comfortable wear. It even has a single welded monofilament with adhesion that can part anyway and mimic natural growth.
| | |
| --- | --- |
| Pros | Cons |
| Pressure-sensitive clips | Not enough coverage |
| PU-coated filament for adhesion |   |
| Heat-friendly |   |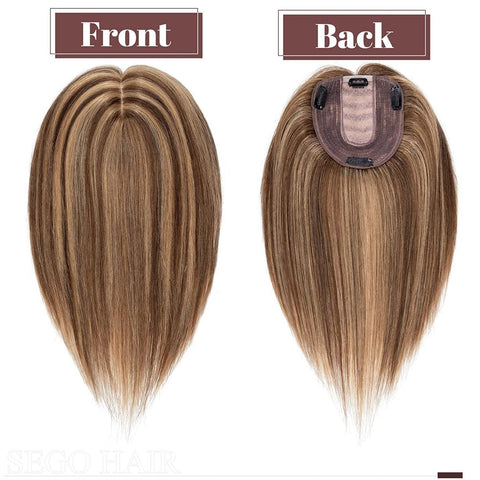 Restore volume and luster to your hair instantaneously with the SEGO hair topper for women. SEGO stands tall amongst the best women's human hair toppers thanks to its affordability, realistic look and comfortable use. Users can also enjoy optimal coverage with its upgraded, large handmade silk base that covers more than a 7cm * 13 cm base topper, ensuring the finest breathability and comfort throughout the wear.
| | |
| --- | --- |
| Pros | Cons |
| Realistic hair seam | Needs hair to clip  |
| Arch design for a natural look |   |
| Upgraded silk base for better comfort and coverage |   |
| Stays in place |   |
| Can be styled as desired |   |
Achieve a fuller hair look with this high-quality 5.25" x 5.25" base hair topper by ADA. It embraces a silky texture and is the preferred choice for those who want extra coverage thanks to its differing hair densities. With the right hair density choice, these short hair toppers can provide a healthy texture with minimal shedding.
Pros

Cons

Strong clip hold

 

Can't be exposed to high heat

 

Can be permed

 

 

Can be resized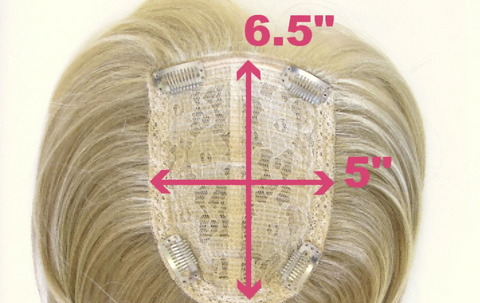 Get rid of hair troubles with the 10-Inch Liliwig hair topper. It features a silk and lace base with four anti-slip clips to let users flaunt their hair without slipping. Not only does it add volume, but also effortlessly hides gray hair, newborn hair after dyeing, and other hair disasters.
| | |
| --- | --- |
| Pros | Cons |
| Suitable for styling | May get frizzy |
| Lightweight and breathable |   |
| Easily blends with hairline |   |
Blunt bobs can embrace a never-before fullness with this Be Blunt Topper by Envy. This synthetic hair topper is 7 inches long from the front and 9 inches from the crown. Moreover, it has a lace front monofilament for optimal coverage and easy parting in different ways. Its pressure-sensitive clips ensure a secure and easy fit on natural hair that won't slip.
| | |
| --- | --- |
| Pros | Cons |
| Optimal stretch | Slightly heavy |
| Monofilament stimulates hair growth |   |
| Different colors |   |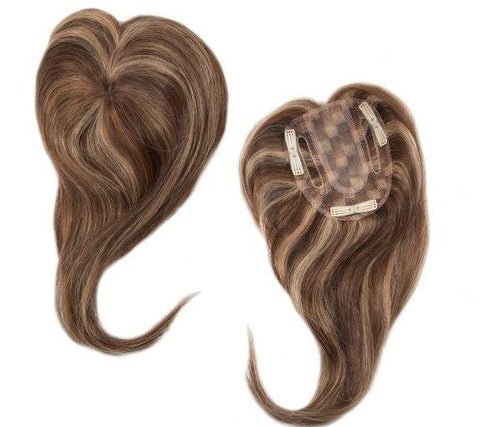 Enjoy a voluminous look with an add-on center hair topper by Envy. It can be trimmed, colored, and styled to achieve any look. Available in ten colors, they are a seamless match with natural hair and blend right in. Envy hair toppers for women are 4.5" x 4" in dimension, ideal for thin hair to give them the body and length they need.
| | |
| --- | --- |
| Pros | Cons |
| Great for thin spots | Some colors contain synthetic fiber |
| Offers natural blend |   |
| Provides extra volume |   |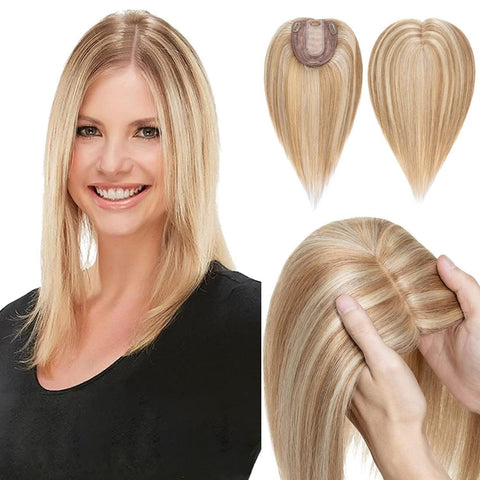 The Hairro human hair topper is made with virgin Indian hair for a fine texture and natural look. The silk base top comprises an HD300 lace for hiding hair knots and providing breathable wear. The 10x12cm Base hair topper can be easily styled to achieve numerous looks.
| | |
| --- | --- |
| Pros | Cons |
| Breathable silk base topper | Unsuitable for medium or heavy hair loss |
| Natural hairline |   |
| Color as desired |   |
| Lays flat on the scalp |   |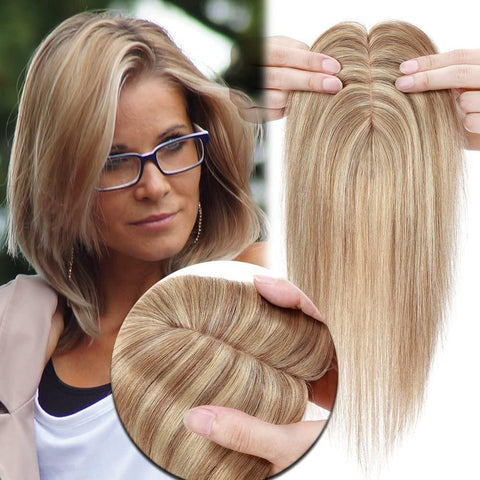 This 7*13 cm silk-base human hair topper from My-Lady seems so natural that it feels real. Its silk base features three layers to hide knots and ensure a smooth feel on the skin. It also boasts 100% natural human hair that doesn't tangle and can easily be styled. It is one of the best hair toppers as it provides the option of choosing a topper with bangs and without bangs.
| | |
| --- | --- |
| Pros | Cons |
| Convenient and secure clipping | Sheds easily |
| Comfortable silk base |   |
| Premium quality natural hair |   |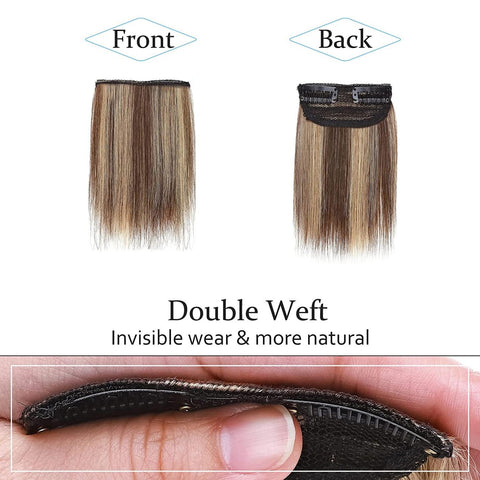 This 2-piece hair clip from SEGO provides a perfect natural volume to fine and thin hair. Featuring invisible hairpins, it gives the hair a natural look and makes it fuller. The clips are tight and secure to avoid slipping and let the user enjoy naturally soft, bouncy hair.
| | |
| --- | --- |
| Pros | Cons |
| Invisible clip-in hair piece | Not suitable for bald top |
| Bouncy, lightweight hair extension |   |
| Shedding and tangle-free |   |
Instantly flaunt thick hair with the human hair topper by SeptHair Extension. This silk-based human hair topper has a free part cuticle aligned for a natural look on the hair. Boasting a density of about 120-130% gives the user a voluminous look and is made of 100% natural hair.
| | |
| --- | --- |
| Pros | Cons |
| Handmade | Thin for braid styling |
| It doesn't shed or tangle easily |   |
| Feels soft and natural |   |
Tips and Tricks for Styling short hair
Who says short hair has limited styling options? When you have the best women's human hair toppers and a few cool accessories, you can achieve anything from a fun, blunt bob to scalp jewelry hairstyles.
Select the right topper
If you want to achieve a natural fullness, choose a topper matching your hair color, texture, and length. Next, properly secure it over your natural hair to create a flawless look.
Blend with your natural hair
With a hair spray or similar styling product, you can help blend the topper hair within your hair. Use a comb or fingers for better results.
Style with accessories
After you blend your hair topper within, it's time to style it with some cool accessories. Use layered bobby pins to contrast with your hair color or wear cute pearl-adorned barrettes in a bob. You can even level up using a decorative comb to get those tresses off your neck.  
Conclusion
Hair toppers for women are an inexpensive way to restore your confidence and achieve fuller, voluminous hair. Our pick for the best hair toppers 2023 is the SEGO 6-Inch hair topper that provides ultimate coverage, comfort, durability, and even style.